Essentials
Download
Help resources
Registration
Features
AutoTyper library
Links
Previews
Documents
Online FAQ
v5.5 readme
How to register

NEWSFLASH
FileTyper 5.5.1 has been released! Get it today from the download page.
---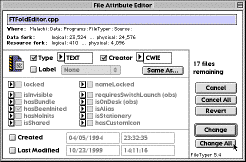 FileTyper is a popular shareware file and folder attribute editor for Mac OS. It was one of the pioneer "drop-box" applications, and its power, speed and simplicity have drawn rave reviews since its first release in 1991. Distributed with FileTyper is MakeAutoTyper, a widely-used utility for creating customized automatic changers called "AutoTypers", and FileTyper Contextual Menu, an extension that adds a useful "FileTyper" item to the Finder's contextual menus.
FileTyper has become a utility of choice because:
It is powerful, with many useful features including batch jobs of any size, prefiltering of batches, searching of folder hierarchies, and direct editing of many file and folder flags including uncommon ones that other utilities leave out.
It is fast, running batch jobs in a fraction of the time taken by an AppleScript droplet.
It is small, with a compact, no-frills design for maximum performance and portability with a minimum of hassle.
It is customizable, using the companion utility MakeAutoTyper. Customized AutoTypers have been bundled with many common applications such as JPEGView and SoundEdit 16.
It is inexpensive, the entire package carrying a shareware fee of only $10 US.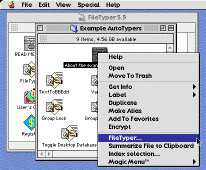 This FileTyper home page, maintained directly by the author, is your official source of information and software. Using the navigation menu to the left, you can read the latest news and sneak previews, download the latest versions of FileTyper software, register online, browse through the library of useful AutoTypers, or get help, fast!